The benefits of buying a reclaimed wood dining table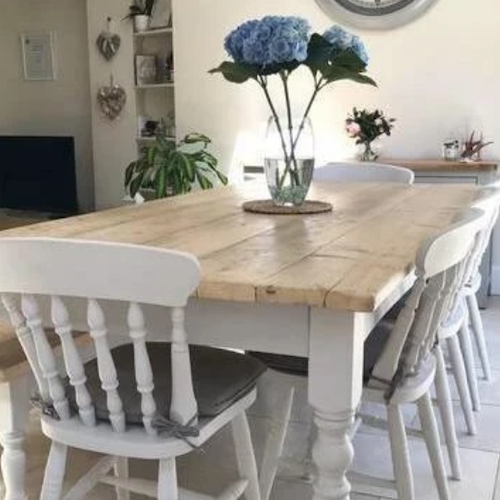 The Wood Recyclers Association estimates that 5 million tonnes of waste wood is generated in the UK every year, yet only 1.4 million tonnes are recycled; the other 3.6 million tonnes are mostly either burned or landfilled. By buying a reclaimed wood dining table, you are helping to reduce waste, protect our tree population, and improve your home with a unique piece of furniture.
Every Country Life farmhouse tabletop is handcrafted from reclaimed timber, allowing you to break away from the off-the-shelf product that everyone chooses and opt for an eco-friendly reclaimed wood farmhouse dining table.
But what are the benefits of choosing a reclaimed wood dining table for your next purchase?
It's Sustainable
The Global Trees campaign estimates that there are 10,000 tree species are threatened with extinction, so buying a reclaimed wood dining table is vital for sustainability. By purchasing a reclaimed farmhouse table you are ensuring that new trees don't need to be felled, therefore opting for something stylish, natural and rustic; and great for the planet.
It's Eco-friendly
Recycling old wood is a great way to reduce waste and do your bit for the environment. As well as protecting trees, which in itself is great for the environment, reclaimed wood also reduces the need for refining chemicals which are traditionally used in lumber production. Using reclaimed wood helps reduce the number of harmful chemicals used, which can leach into water or soil and cause pollution.
A reclaimed wood table is sturdier
Older wood benefits from a denser grain, making it much more durable than wood from younger trees. This will not only give you a piece of furniture that can stand the test of time, but it will also save you money in the long run as you won't need to replace your reclaimed wood dining table for years to come.
They have more character
Older wood has more depth, markings and character than newer wood. All Country Life reclaimed farmhouse tabletops benefit from minor knocks, marks, cracks and dents here and there, all telling a story of where the wood has come from and giving character to your dining table.
Any larger holes or marks are filled so that the table is still functioning, but even this will be done tastefully so that it blends in and looks like part of the wood.
It's unique
No two pieces of reclaimed wood, and therefore reclaimed wood dining tables, are ever the same. Every Country Life table is handcrafted giving you the freedom to choose the wood finish and paint colours to match the decor in your room.
Take a look at our reclaimed wood farmhouse tables collection where you will find a variety of styles and colours, providing the eco-friendly choice to anyone who desires beautiful handcrafted furniture without having a harmful impact on the planet.