How to choose a dining table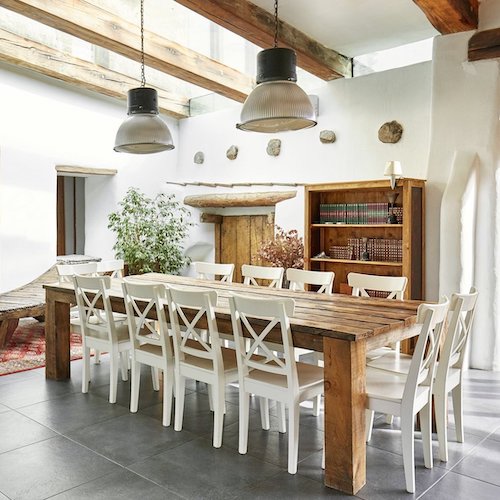 The first thing you should do when choosing a dining table is to research the variety of shapes and sizes that could fit the space available, whether that is square, rectangular, circular or oval. You may already have in mind the number of people you would like to be able to seat at a dining table, but you also need to consider allowing enough space around the table for people to comfortably pass. Also, the right dining table and seating for your home needs to be in keeping in terms of theme and proportion to the room.
Measuring your available space
When you have a few concepts in mind you should measure what size dining table will fit in the space you have to allow people to sit at it comfortably, taking into account walls, walkways and other nearby furniture.

The recommended clearance space around a dining table to the nearest obstruction, whether that be a wall, door or nearby furniture, is a minimum of 76cm (about 30 inches). If the space allows, opting for up to 122cm (about 48 inches) is advisable. Not only will this ensure plenty of space for people to get in and out of their chairs comfortably, it will also help to balance the proportions of the table within the room.
When choosing a dining table size you should aim to make best use of the available space to create a comfortable and inviting environment. You may find that you can fit an 8ft rectangular farmhouse table with 10 chairs to match, but if you opt for an 8ft trestle table with a chair at either end and two benches along the long sides, you have the potential to seat 12-14 at a table of the same footprint size but with additional seating potential due to the different style of the table. If you only occasionally host larger groups of people, it is worth considering a type of dining table that has extension options. Here at Country Life Furniture we have removable dining table extensions available for all our traditional style dining tables, so that additional seating can be accommodated when required.
Consider dining table seating options
The dining room table is where family and friends gather to not only eat meals, but also share stories, make plans and create memories, where children do homework, and more recently where many people have sat on laptops working from home or homeschooling children. Being at the centre of such a hub of activity, choosing the perfect seating arrangement for your dining table can be difficult. Do you choose a dining table with individual chairs or swap the chairs in for benches? Or perhaps a table and a combination of chairs and bench?

Our range of farmhouse tables here at Country Life Furniture are designed to work with different seating arrangements, so you'll be able to find the perfect combination for your individual requirements. If you are wondering how many chairs you can fit at a 6ft rectangle table, or what size bench works with an 8ft table our handy dining table size guide [link to new page] is a useful resource to illustrate the different options.
The recommended width per person for a typical dining table is 70cm, however you could get away with as low as 50cm per person if you are happy to squeeze in for a special occasion. You also need to factor in a minimum of 90cm clearance for every side that will have chairs to ensure that people can get in and out comfortably.
Dining table and chairs
A dining table with chairs is probably the most traditional arrangement, and for larger tables individual chairs make it much easier for people to get in and out. Dining chairs are also considered a bit more comfortable than a bench, with built-in back support, and the option of removable seat cushions for extra comfort. However, individual chairs do take up more room than benches and the number of people you can sit at the dining table is limited to the number of chairs you have.
Dining table with benches
A dining table with benches is a very space effective option as the benches are designed to fit neatly underneath the table when not in use. Benches for dining table seating are also a popular option for families as a bench can accommodate more small children in less room than if they each had a chair. Similarly, they also make it easier when entertaining as you can almost always 'shuffle up' a bit to fit one person more on the bench. All our benches come with the option of made to measure tie-on cushions for that extra bit of added comfort.

If you love a more casual look for your dining table arrangement our range of rustic farmhouse benches are the perfect choice, and give the added bonus of being easier to clean or hoover around as they are only one item of furniture to more instead of many!

On the flip side, benches have no backs on them making them less supportive overall than a traditional chair, so they may be less suited to older people or those with back problems.
Dining table with chairs and bench combination
Using a combination of a bench along the long side of a rectangular table with chairs on the opposite side and at each end is a popular option as it means you can take advantage of both seating options for added versatility.
What about dining table extensions?
If you regularly cater for guests it is worth considering a dining table that comes with the option for adding on an extension to increase seating capacity. Removable dining table extensions are available on all Country Life Furniture traditional style tables to enable additional seating potential for family gatherings and dinner parties. Our dining table extensions are handcrafted from solid reclaimed wood to perfectly match the dining table. You can find out more about the additional searching that can be achieved with our removable dining table extensions in our handy dining table size guide.
Dining table drawers
Traditionally dining tables with drawers were a common sight in the kitchen. A dining table drawer offers a useful space to stash away cutlery, placemats, napkins or other must-have items. More recently with more and more dining tables doubling up as workspaces, that extra bit of storage space to stash away supplies offers a bit of added versatility. All our traditional farmhouse tables have the option to add one or two drawers with a handle of your choice to the side or at either end of the table for that extra bit of useful storage space.
Let us help you choose the perfect dining table
Our dining table size guide is a useful resource to illustrate the different options and seating potentials for our range of dining tables. But if you have any questions, or would like a bespoke size table please get in touch and we can discuss your requirements. We also look forward to welcoming you to our showroom where you can view a range of our dining tables and chairs and benches.